After climbing down from Wang Mang Peak, we headed towards Sky Border Mountain and take a walk in the famous Huilong Hanged Wall Road.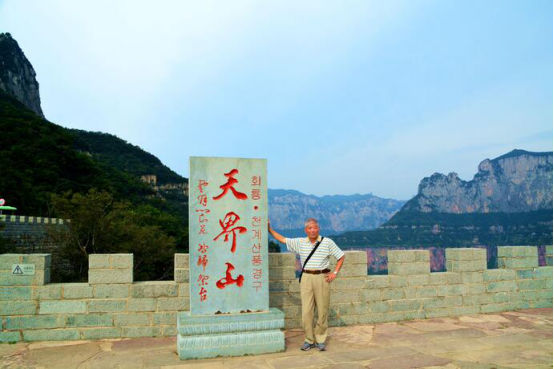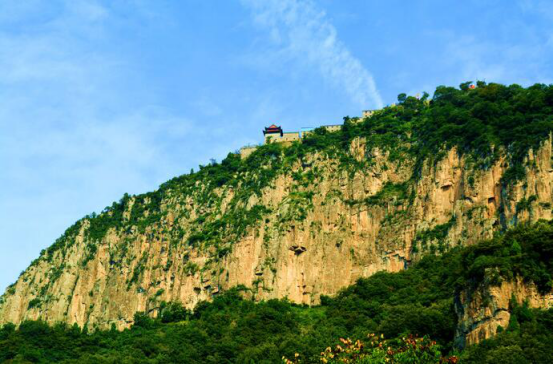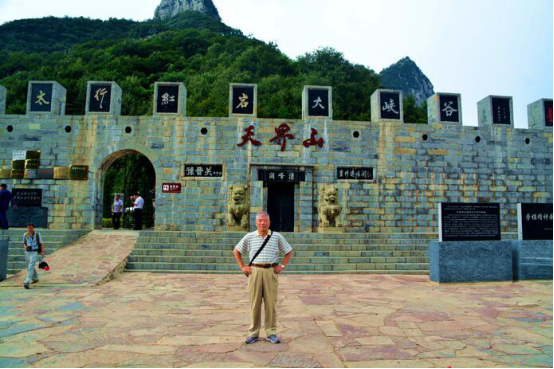 Huilong scenic spot is located in the remote place of Mountain Taihang in the northwestern corner of Upper Bali Town, Huixian city. It includes red landscape, natural landscape, humanistic landscape and a hundred of other scenes. Huilong big gorge is likened to a giant pot and is akin to a huge dragon. Red-stone cliff that falls for one thousand meters can be compared to uncanny workmanship. With the green mountain, blue water, white sky, azure sky, ancient trees, shades, mountain styles and folksy accommodation adding radiance to one another, its unique scene takes form.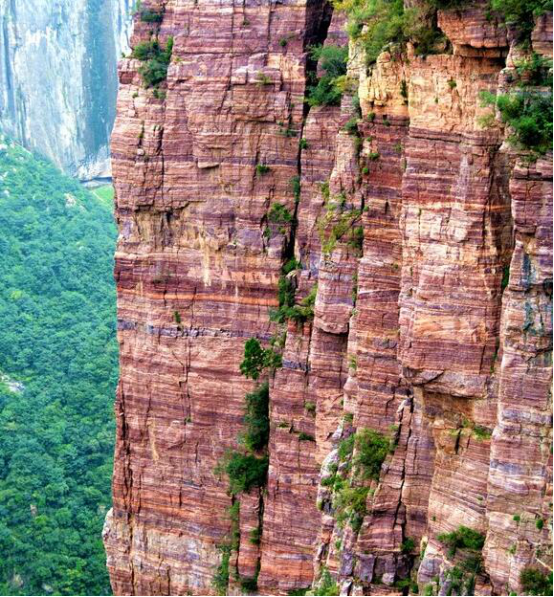 It is Iron Peak as in 'South Gold Peak and North Iron Peak. The South Peak is in Wudang and the North Peak is in Taihang'. It is a place giving rise to the mysterious scene in Mountain Taihang…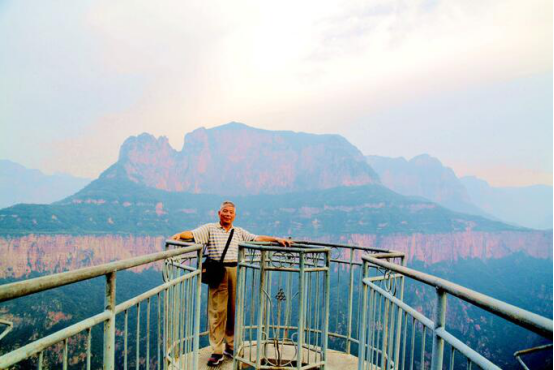 The peak of Taihang is picturesque. Its utmost beauty lies in Huilng. Huilong tourism area represents the features of South Taihang. With nine peaks and interwening of ravines and gullies, Mountain Taihang is extending for hundreds of Li. With its red-stone cliff and gorge, its water line, chanting dragon gorge, Dragon Mouth waterfall, cloud sea, cool world for resort, the highest summit of cross peak and so forth, mysterious scenes are unfolding.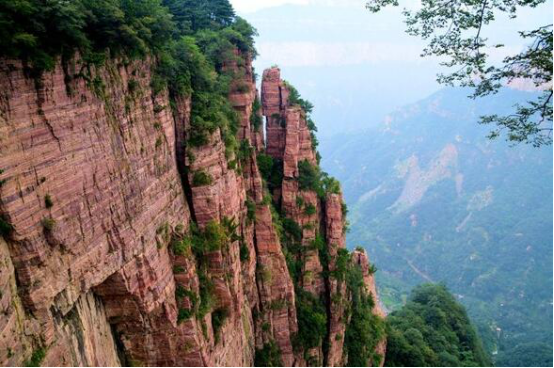 It is Cross Peak, the highest summit for Mountain Taihang. It is 1763 meters in elevation and the crustal movement is taking effect for 1.5 billion years. It is towering and precarious. Sparsely any people would come over here. But it contains the most spectacular scenes in Taihang including the magnificent peak scene, the hundred-mu midair prairie, E Huang holy cave, Taihang stone woods. The primitive forest is a natural warehouse for Chinese herbal medicine with over a thousand of precious Chinese herbal medicines taking root in here. It is the geological conservation spot for 'Tai Hang Dang Shen'. The summit is a place for infinite wonder. Iron Peak lies in the peak at 1570 meters in elevation of Huilong scenic spot. It contacts magnificent architectural clusters such as 'God Xuan Tian' made of blue stone without beams. With iron tiles, iron roof, iron vessel, iron pot and iron statute, it is famous or iron. So it is honored 'No. One Iron Peak in the World'. It is one of the birth places for Taoism. Taoism believes in the faith of 'Gold Peak in the South and Iron Peak in the North'. South Peak lies in Wudang and North Peak lies in Taihang. Wudang in the south is famous for its Gold Peak. Taihang in the north (Huilong) is famous for its iron peak. Temples in Master Peak can date back to Sui and Tang Dynasties. They are renovated for several times. The 'No. One Iron Peak in the World' has 14 stone inscriptions in Ming and Qing Dynasties. The inscription contains multiple contents. The precipice has two Moyan Dragon tablets dating to the 11th year of Chongzhen hanging. Each is around 3 meters in elevation and one meter in width. Its image of dragon heads are still lifelike after over 400 years.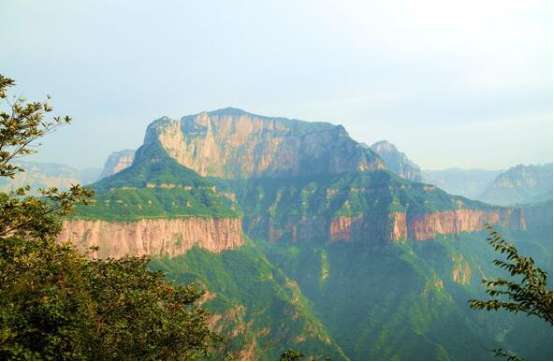 A peasant is laboring in the back mountain.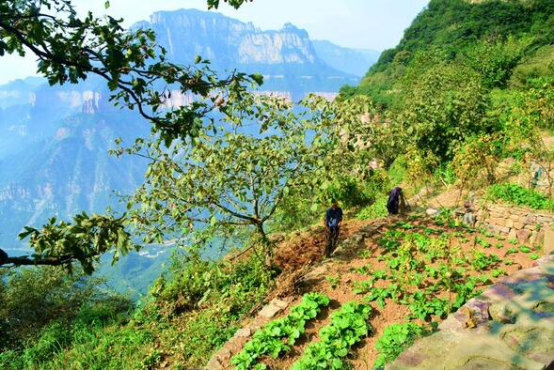 Here is the village the dwell in.
The clusters of temples at the peak abide by the essence of 'Taoism Way' that are built along the mountain ranges and are arranged in different elevations. Its architectural styles are classical and rustic that are worthy of our repetitive reflections. Throne Palace, Grandma Palace, Palace for the Imperial Parents, Great Hall, Worship Hall and Stone Memorial Archway are tranquil and give people a holy feeling. Legend goes that only a small track lied at the peak back then and it was way challenging for travelers to climb upwards. Iron tiles covering the top of the temples are taken up entirely by goat. How can they locate the iron pot over 1000 grams in weight and the colossal iron figure of the founder can't be easily comprehended. 'Global Iron Peak (Master Peak)' is encircled by four corners of precipices above midair isolated peak, 'the first red-cliff gorge in Taihang'. The great scene of cloud in Taihang is often surging around the gorge in 'Global Iron Peak ) Master Peak'. Surging and turbulent, they are likened to rolling waves. Traces of ancient relics can be vaguely seen that are resembled to jeweled palace in the elfland's hills. Shrouded by mists and clouds, travelers who stand at the peak 'could look down upon the scene of the gorge that are shrouded by enchanting mists and billows of fogs.'
Mountain Taihang. Water travel line covers Chanting Dragon Gorge, Taihang Amusement Park for Macaque are unfolding. Dragon Mouth Waterfall are likened to gauzes of the immortals above the 200-odd-meter red-cliff precipice. Chanting Dragon Gorge aggregates falling waterfall, brooks, queer rocks, famous trees and flowers and rare fowls and strange animals into one and empowers the nature with primitive sentiments. Zhanggou Waterfall aggregates the essence of spring, brook, river, pond and waterfall with green mountain and river, white cloud, azure sky, old trees, shadeway, mountain scene and private houses adding radiance to one another. Peak gallery offers travelers a place to view the most spectacular 'red-cliff first gorge in Taihang' that can be compared to Grand Canyon Colorado in the US. Red cliff that stretches for hundreds of Li and Mountain Taihang give you spiritual shock. You can have a bird's eye view on the full view of Baligou waterfall and travel in Stone Door Reservoir and the great scene on Taihang on Terrapin.
It is home to Zhang Rongsuo, son of Mountain Taihang, a national model laborer and Top 10 Figures in Touching the Heart of China for 2002. The state-level red travel scenic spots cover the meandering Baligong that is likened to a giant surging dragon and encircling 9 peaks before landing in Precipice Sky Road. It can be compared to an S-shaped giant dragon that goes upwards for thousands of meters all the way to the Huilong Hanged wall Road above the red-cliff precipice and the sky.